ReadyBoost can speed up your windows based computer by using storage space on most USB flash drives and flash memory cards.
How to turn ReadyBoost On or Off?
Plug a flash drive or flash memory card into your computer.
In the Autoplay dialog box, under General options, click Speed up my system.
In the Properties dialog box, click the ReadyBoost tab, and then do one of the following:

To turn ReadyBoost off, click Do not use this device.
To use the maximum available space on the flash drive or memory card for ReadyBoost, click Dedicate this device to ReadyBoost. Windows will leave any files already stored on the device, but it'll use the rest to boost your system speed.
To use less than the maximum available space on the device for ReadyBoost, click Use this device, and then move the slider to choose the amount of available space on the device you want to use.

Click OK.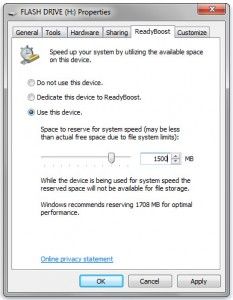 • Header image credit: kunal-chowdhury.com